Love
Sarah's favorite part about Rainbow is arriving at an event, knowing she will be greeted by warm, familiar faces and maybe even some new ones. Her passion for Rainbow shines through her love for her sisters and friends. She says it's important for her to "be there for her sisters and help them through their struggles." She added that people do that for her, so she is even more motivated to return the favor.
Outside of Rainbow, Sarahnworks at a daycare, taking care of children ages one through three and a half years old. With her soft temperament and loads of patience, she is able to take pride in her job. Sarah thinks that "first impressions are always important" as her favorite station is Faith. She brings that outlook into her workplace for the young minds she is able to see everyday.
In her own Assembly, she acts as a mentor to the younger girls. She guides the new generation of girls to discover their full potential. She is known around the state as a huge hugger! Always there to offer a tight squeeze, she enjoys making people's day a little warmer.
When asked about a message she would like to share with New Hampshire Rainbow, she said to always follow the Golden Rule. Treating others the way one would like to be treated is the foundation for kindness. Love can be a very strong bond. Sarah lives out the lesson of love at her work, at home, and of course, with her Rainbow sisters.
Religion
Caitlyn has been active in her church community for as long as she can remember. Throughout her middle school and high school years, she has participated in numerous events and activities and volunteered hundreds of hours of her time. It is especially fitting that she served as Grand Religion during the 2016-2017 Grand Term. She is glad that she joined such a great organization that teaches her life lessons as well as encourages her to deepen her faith.
Every year, her church holds an annual Fast for Social Action. At the event, volunteers go without food for thirty hours in order to raise money for six local charities. Caitlyn herself has participated every year since sixth grade and served as a team leader all throughout high school. She also taught CCD for fourth graders and lectured at the Sunday morning masses. During her last two years of high school, she directed the Passion Play, a play about the passion of Jesus Christ. Caitlyn now attends a private Catholic university and is a member of the Catholic Student Organization which is in charge of planning various events on campus. 
Caitlyn states  "I would not be the person I am without my faith." In the past summers, she's attended a camp in Georgia called Life Teen Camp. There, she is able to unplug herself from the outside world to unwind with other Catholic teens through activities like mud obstacle courses and daily mass. This camp alone has built up her faith in ways she never could've imagined. Her favorite quote is from a lecture in the Rainbow initiatory degree, "Faith will lead you on" and that certainly is true to Caitlyn. 
Nature
Alex can't get enough of the cool summer breezes and the silent wintery mornings. She loves the way the wind laces its movements through her hair while simultaneously whirling up the crispy, colorful autumn leaves. Her time in Rainbow has enhanced her appreciation of nature, especially because of the lecture about nature recited in initiations. She deeply admires the ways of Mother Nature and that is clear to see.
Outside, she likes to take long walks with her older sister Nykola. Alex says, "I like to go to my grandma's house and walk down her road to the river and listen to it." Sometimes she likes to throw sticks in the river, and watch as the current takes them away. And the rhythmic noises of the birds are always welcomed. Living so close to the forests and rivers of New Hampshire has been something she has never taken for granted.
As a Pledge, she used to plant flowers along the sides of their Masonic building. The cheerfully bright flowers helped to lighten everyone's mood as they passed by and welcomed the new life that came along with the beginning of Spring. Now, her family picks up litter in the springtime, a tradition she hopes will last a long time. When thinking about the future of our Earth, she is hopeful of a place with less pollution and a greener way of life. 
Alex's love for nature shines through in her easy-going personality and smile as bright as the sun. She hopes that she can make a difference in her community by doing her part as a citizen of the earth. 
Immortality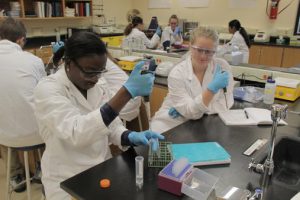 Since she was a child, Jackie has always dreamed ambitiously. First, it was a professional basketball player. Then, it was a world-renowned fashion designer. Now, she's hoping to make her mark on the world as a chemical engineer. Her experiences in the International Order of the Rainbow for Girls she have helped her to become more prepared to achieve her goals.
She currently attends the University of New Hampshire in Durham, NH where she is pursuing her degree in chemical engineering with a focus on bioengineering. While she is there, she hopes to gain an internship through the Department of Defense and work at their Maryland facility once she graduates, helping protect against chemical and biological warfare. In order to get chosen for this competitive program, Jackie has been active in several student organizations at UNH. She is apart of UNH's Society of Women Engineers (SWE) chapter and the Hamel Scholars which is a service program for UNH students from New Hampshire. In Hamel Scholars, Jackie is part of the STEM Outreach Task Force which works with elementary school students to discover the joy of the scientific fields.
Rainbow has proved useful in several ways, aiding in Jackie's plans for the future. The resume workshops allowed her to understand what to put on a resume and how to present herself to potential employers which were essential at the UNH Career Fairs she attended. The leadership and event planning opportunities that were given to Jackie through Rainbow have also helped in communication and details. Immortality, the fourth station of the rainbow, means living life to the fullest. We may lose people along the way but we must carry on and live for them as well. This lesson resonates deeply with Jackie so she hopes she is making the best of her time through helping others.
Fidelity
Autumn has been forming sisterly bonds with the fellow members of Pemigewasset Assembly #28 and all of New Hampshire Rainbow for the past three years since her initiation. Over time, she's gotten to know her sisters through various activities like dances, field days, and game nights. She takes pride in her loyalty to the organizations she belongs to. She is known to be a supportive sister that is there for others.
On her soccer team, she was recognized for her bravery when she took a hit for a fellow teammate. Because of her actions, her coach awarded her the "Paper Plate" award. Beyond the soccer field, she does softball and cheer. There, she adds a positive attitude to her teams. She is also a member of an algebra club, book club, and a beekeeping club. She is trusted by her club and teammates to show up on time and give her best foot forward. 
Her sense of fidelity has also called her to think about joining the United States Marine Corps, just like her grandfathers. How fitting it is that the Marine Corp motto is "Semper Fidelis," a Latin phrase meaning "always faithful." She also lives by this quote, "Always remember, you are braver than you believe, stronger than you seem, and smarter than you think," said by Winnie the Pooh. She would love it if more people would "show a smile" and "be kind in general."
Autumn is grateful for her time in Rainbow. It has taught her many life skills and lessons she will be sure to put to good use. Above all, though, she has been taught the beauty of the lesson of Fidelity. 
Patriotism
Claire is the epitome of Patriotism. A member of NH Rainbow for the past six years, Claire has dedicated much of her life to serving our country in different ways. She embraces the lesson of Patriotism in her everyday life as a member of her High School Jr. ROTC program where she serves as the Deputy Commander for Rocketry and a member of the Color Guard. Claire utilizes all of the lessons she has learned in Rainbow as she applies them to her other extracurriculars which include Varsity Field Hockey and Tennis, Student Senate, Newsletter Club, and the Academic Bowl Team. She also mentors three Freshman.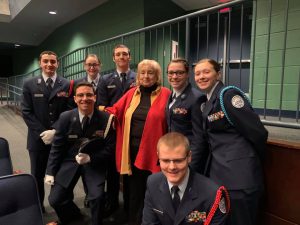 Currently serving as Worthy Advisory in her local Assembly, as well as serving the Grand Family as Grand Chaplain and Marketing Liaison, Claire looks at Rainbow as a great organization to grow up in. She finds that the lessons can be applied in all aspects of her life, not just the organizations she is involved in through school. It is an organization that provides her with great friendships and skills to help prepare her for life. And the lesson of Patriotism is where she focuses her life goals.
Claire has many different career aspirations, and is currently looking at joining the Air Force and becoming a JAG Officer. She has already taken an online course in law, but doesn't want to close any doors on what her future might hold. Claire believes that Patriotism is also supporting her community in a variety of aspects, and participates in community clean ups and placing flags on the graves of Veterans. 
When faced with the question of what Patriotism means to her, Claire leaves us with the following statement: "Patriotism means supporting your country in any capacity you can from supporting local businesses to defending our people. Above all, though, it means standing with one nation, under God, indivisible, with liberty and justice for all."
Service
Natalie's first memories of serving her community date back to 2017, when she became a member of the International Order of the Rainbow for Girls. With her sisters in Exeter Assembly #20, she has participated in numerous charitable activities that accumulate to hundreds of hours of service. Over the years, she has participated in the annual Sundae at the House with David's House by tie-dying t-shirts for families, built picnic tables with the girls of Girls at Work Inc., volunteered at charitable 5k runs, and so much more. 
Natalie's service work goes beyond her Rainbow activities. She makes biweekly trips on Sundays to Mary's Dog Rescue and Adoption. There, she cares for the furry creatures by feeding, walking, and playing with them. She also assists in various cleaning tasks around the dog center. "Since I was a kid, I've always wanted to be a veterinarian," said Natalie. To be able to combine her love for animals and love for her community has been something she has considered a blessing.
When asked about what inspires her to keep up with her service, she said she would like to "make the world a little bit of a better place." She lives by the motto: "treat people with kindness" or for short, TPWK. "Anything you can do can make a difference… even if it's small or really big," said Natalie, and it certainly rings true. Because of her dedication to serving her community, The Prudential Spirit of Community Award was bestowed upon her in 2019. Along with her recognition also came a $1,500 grant and an all-expenses-paid trip to the country's capital. Unfortunately, due to COVID-19, her trip never came. Natalie decided to make light of an unfortunate situation and donate her earnings to New Hampshire Rainbow. She hopes the money will offset the cost for fellow sisters to attend Grand Assembly, Rainbow's yearly convention.
Natalie is and continues to be an inspiration to the members of her community and especially New Hampshire Rainbow. Through her actions and efforts, she lives our lesson of Service in her everyday life.